About Solar Foundations USA
Our mission is to help drive the growth of the residential and light commercial ground mount solar panel support structure markets through the value added by our people, product and innovations.
Innovative
SFUSA is constantly developing new designs, engineering new racking solutions and patenting our product lines. We work hard to continuously provide you with the most advanced options for your solar racking system.
Adaptable
With almost a decade of experience designing, manufacturing and installing our racking structures across the east coast, we understand the solar energy community is regularly shifting with demands for broader products and services. We strive to identify those necessary changes and quickly refine or reinvent our offerings to better assist your company with its ground mount needs.
We have installed our ground mount support structures in some of the most difficult soils across the east coast, executed a diverse amount of unique ground mount design requests and pride ourselves on the ability to always deliver the most cost-effective option for your company, regardless of the various factors that may come into play.
Grounded
From the beginning, we have built our reputation for quality service one installation at a time. From a synergy of well-grounded professionals, Solar Foundations continues to be a value-orientated, customer-driven solar panel support structure source, providing you with the most optimal solutions to fit your company's needs.
We are committed to ensuring our ground mount systems meet or exceed all of your company's expectations. This is reflected in every stage of our process. From product engineering and design all the way through certified installation by our crews, consistently providing best in class service for you and your client is our goal.
Solar Foundations began operations in September of 2009 with its offerings limited to the foundation piles and the substructure used to support solar panel racking. We were designing our support structures to work with racking products supplied from a wide array of racking manufacturers. By early 2010, we identified several significant opportunities to improve the design of the ground mount support structure along with the need to develop a racking product that was optimized for use in ground mount arrays. Later that same year, we began extruding test profiles for our own racking product and submitted patent applications for many of the initial products we began producing. As of 2011, all of our ground mount support structures are installed with our racking products only.
Solar Foundations has grown to acquire facilities in New Castle, Delaware, Columbia, South Carolina, and Ballston Lake, New York. SFUSA initially made a name for itself in the solar racking industry by providing high-quality solutions with very short lead times for residential and light commercial ground mount structure projects throughout the Northeastern United States. When it comes to your needs for ground mount racking structures, Solar Foundations offers a full range of services including consultation, engineering and design, permit ready plans, custom component manufacturing and installation services all along the entire east coast from Maine to Florida, Texas and now a portion of the Midwestern region.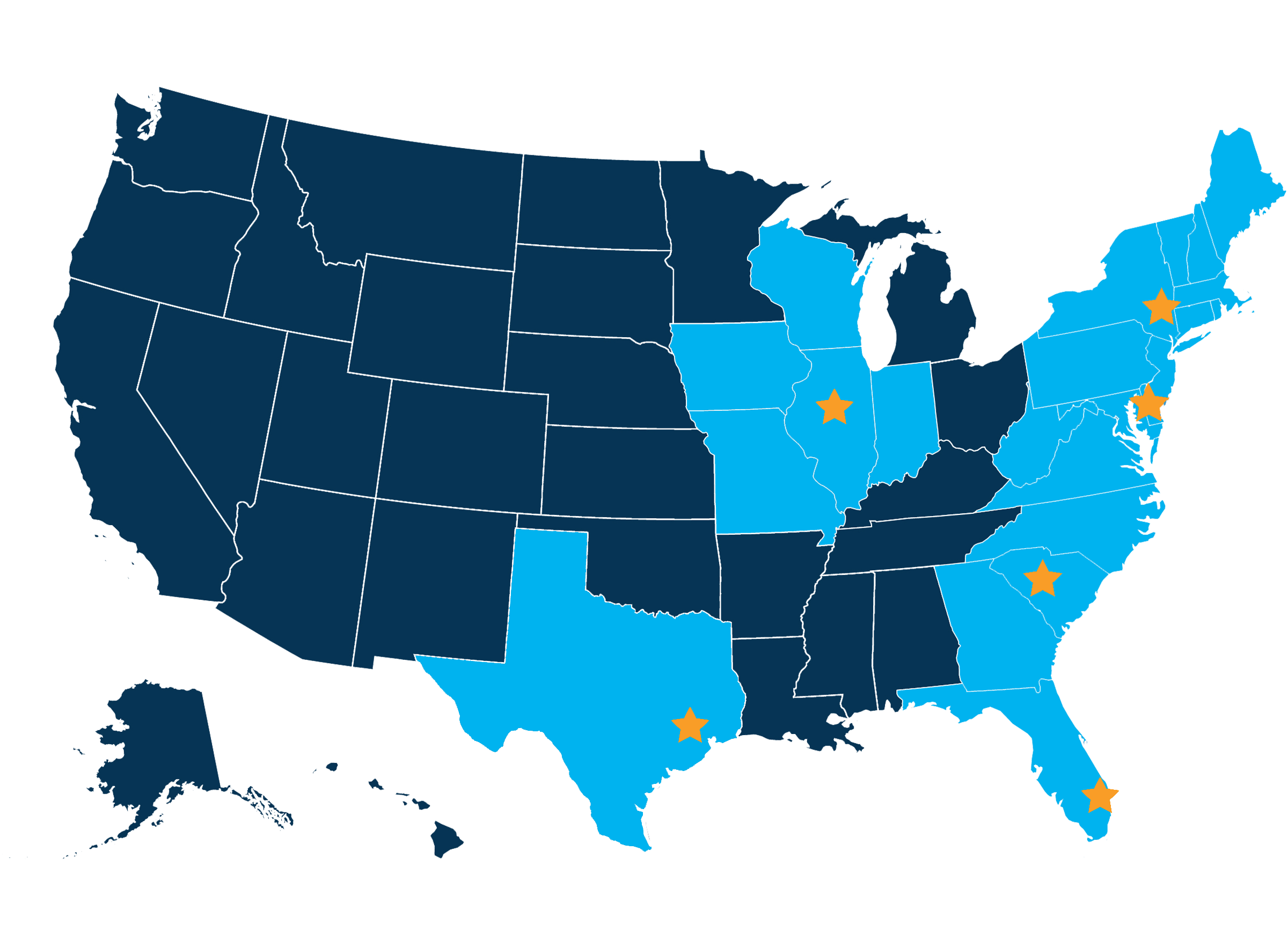 Since inception, we have seen numerous occasions where companies have been reluctant to sell ground mount systems. Solar energy installers typically are well versed in roof top installation processes but often do not install a sufficient volume of ground mount structures to develop the same level of proficiency. Additionally, many of the cost savings benefits associated with commercial scale projects are not available to residential installers. Our certified crews are the only authorized installers of our product with specially outfitted rigs to allow them to be extremely efficient and maintain the highest of standards. Between our patented products, custom equipment, and certified crews, we have built our reputation for reliable service one successful project at a time.
Get in touch with us to receive more information about our solar racking systems and installation services for your residential or commercial project. We will be glad to partner with you on creating your foundations for renewable solar energy.