Solar Continuous Flight Helical Pile

Solar Foundations manufactures our Solar Continuous Flight Helical Piles with heavy wall structural tubing followed by hot-dip galvanizing. Our custom ground screws are used for most systems because of their uplift and bearing performance, ease and speed of installation, minimal disturbance to site and soil and the ability to validate pile capacity during installation.
Advantages of Using SFUSA Solar Continuous Flight Helical Piles and Ground Screws
Rapid Installation
SFUSA installs piles using our high-speed, custom-designed HP-Drive System. The driver requires only a single operator and provides indication of uplift and bearing capacity while allowing for multi-axis adjustment of the pile during installation – with no movement of the machine. This yields higher installation rates with greater accuracy than using a conventional excavator or Bobcat, and at a far better cost than installing them yourself.
Unlike concrete, helical piles and ground screws do not require any time afterward to carry loads. Our crews immediately begin assembling the structure after the piles have been installed.
Inspection Requirements
Solar Foundations' helical piles and ground screws require fewer inspection requirements both pre and post-installation than concrete piers. Inspections for helical piles and ground screws typically include verification of equipment used, pile depth, pile diameter and configuration, final installation torque and any information required in the documents prepared by the design engineer. SFUSA provides a verified installation report after the ground mount structure has been installed. Our Professional Engineer can work with your company and local building department if additional documentation is necessary pre and post-installation.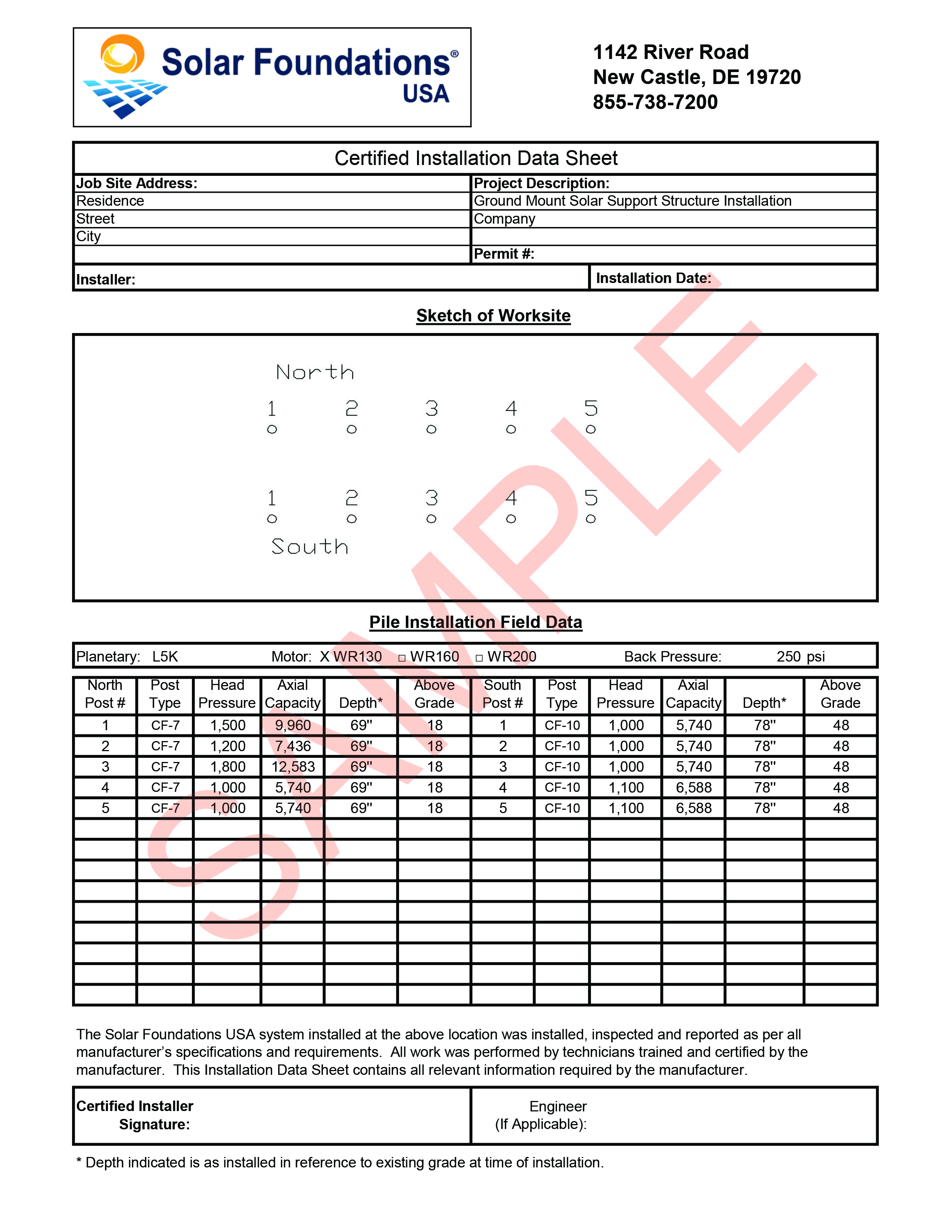 Take a closer look at a sample Solar Foundation USA installation report distributed after your ground mount structure has been installed.
Contact our Communications Director, Meghan Largo, if you need more information on pre or post-installation documentation.
Minimal Disturbance to Soils
The only impact on the soil when installing the posts is the 8" diameter of the helical pile or ground screw. Unlike concrete, the installation of helical piles does not auger or drill soil to the surface to create spoils. This keeps the work site clean and requires minimal cleanup when the installation is complete, saving time and money on the project.
Installation Monitoring and Reliable Capacity Indication
One of the most important advantages of using SFUSA helical piles and ground screws is the verification of load capacity during installation. Solar Foundations' patented equipment presents reliable capacity indication and allows installers to verify data with our engineering and design team in real time. This ensures your company's ground mount structure is accurately installed to the required design parameters and depths.
Preferred in Environmentally Sensitive Areas
When it comes to installing helical piles or ground screws in sensitive areas such as beach or lake fronts, wetlands, swamplands or marshes, Solar Foundations' structures have been recommended as a safe approach to constructing with minimal impact to the ecological habitat. Solar Foundations' solutions are the optimal choice for sites where minimal environmental impact is required.
Flexibility and Removal
Our helical piles or ground screws can easily be removed once they have served their purpose or they can be relocated if the project design parameters have changed.
Wide Range of Soil Applications
The combination of Solar Foundations' helical piles and patented installation equipment allow for our crews to install in a wide range of soil conditions including, but not limited to sand, clay, shale or rock. This permits work to proceed without pile rejection.
Installation at Sites with Limited Access
SFUSA primarily installs our ground mount structures in residential settings due to the compact design of the installation equipment and helical pile foundations. The mini skid steer used to install the piles can easily maneuver the smaller properties with limited access leaving the project site undisturbed.
Year-Round Installation
SFUSA installs all year round in any temperature since there is no need for concrete or grout. Unlike concrete, there is no down time in winter when it is too cold for concrete to cure properly.
View the Assembled Component
Read the Technical Datasheet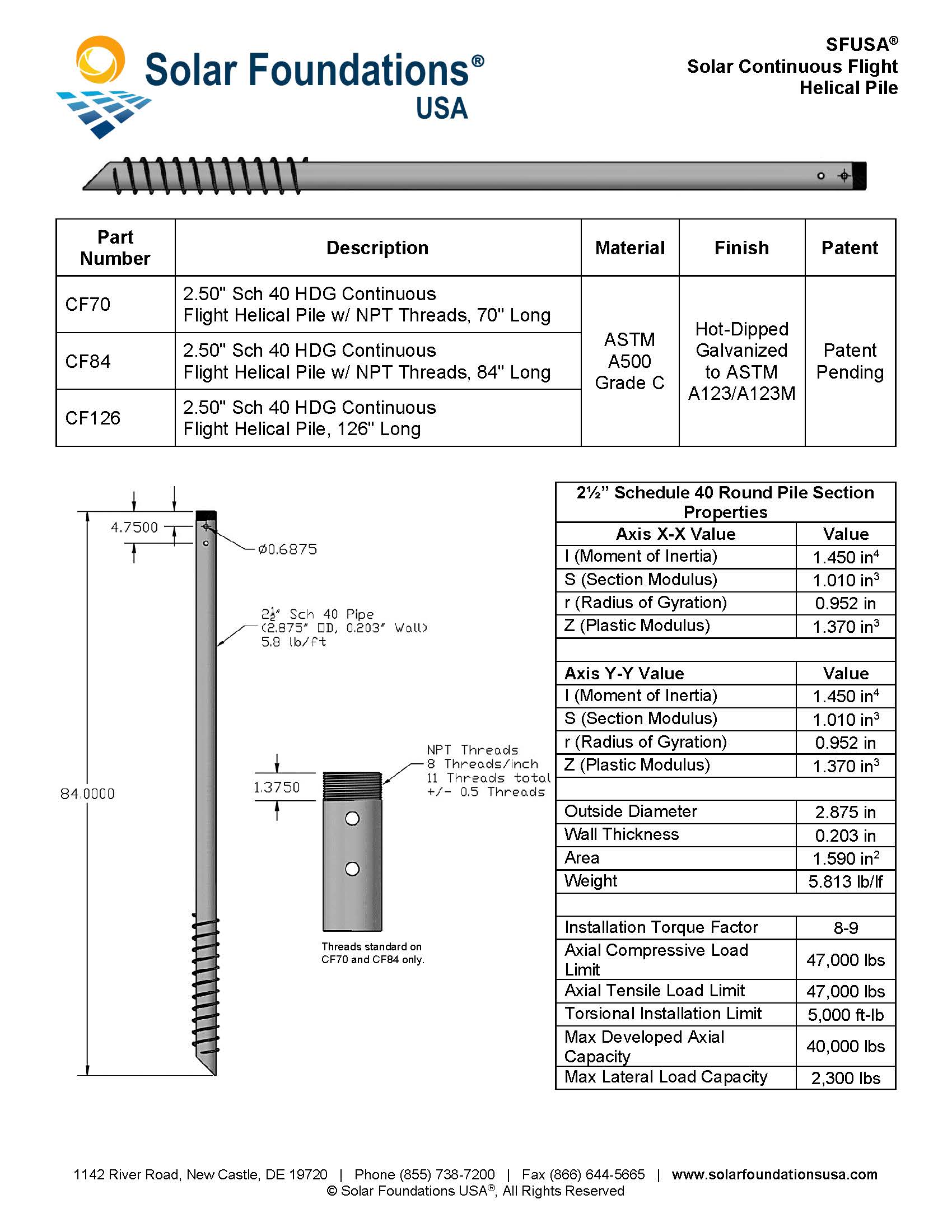 Take a closer look at the Solar Continuous Flight Helical Pile datasheet for material specifications, component descriptions, available sizes and more.